Black Widow Nostalgia Top Fuel Dragster
The 'Black Widow' is a 225 inch Front Engined dragster built by Robert Stirling in San Francisco for Jim Murphy and his WW2 stable of cars.  Robert supplied a complete chassis (see chassis when BRAND NEW in Picture Gallery-Ed) and Jim and Dave Thornhill set about manufacturing a body and outfitting the whole car.  Nothing had changed on the chassis from when Robert actually made the car back in 2002 to when we took delivery of the car in November 2009.
Tony, Joey and I took the car back to the bare chassis and started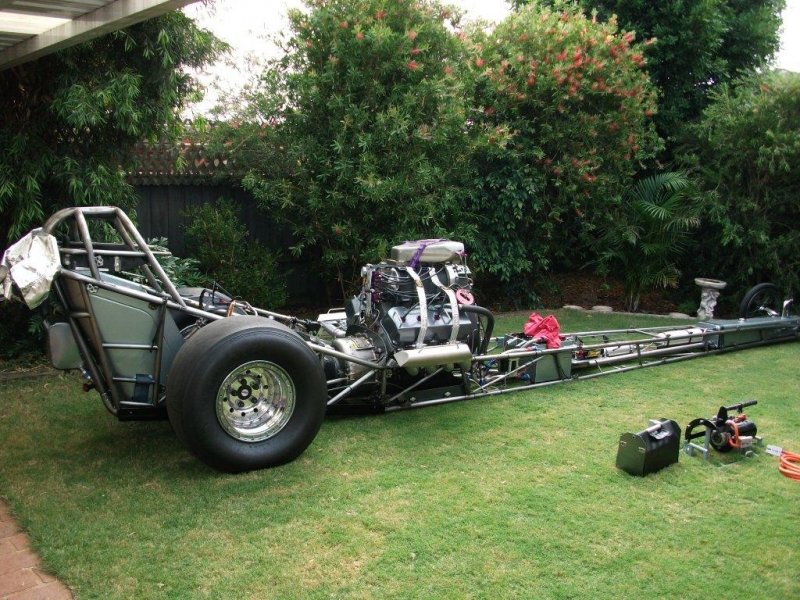 from zero.  There was not much to do as even though the car had done several laps by Jim, apart from 'war wounds' on the body, it was in superb condition.
Richard Botica made up a new firewall and engine mounts to adapt the BAE block/late model Hemi engine and surprisingly it went in very well as far as fitment between the chassis rails.  We were also running a direct drive with only a reverser, so everything else virtually fell into place.
The body was cleaned up, Joey remade a few panels and it was off to the paint shop, and then returned again to the paint shop and reluctantly we accepted the body back from him, but the paint was not nice. Shortly we will do another coat of paint, possibly after the 2012 season when she is due again for a complete overhaul.
Grant Bissett from Angel Signs decorated the car in gold leaf vinyl to his design and made up the Black Widow logo/East Coast Master Blasters logo.  While the car looks loud, the signs have a flow about them and the car still looks classy (that's our opinion anyway-Ed).
Vinnie then turned his hand to the engine, and after what seemed like forever to get parts from a 'parts seller' in the States, he finally managed to get the engine all together.
The basics of the engine are an Enderle Mag Bird Catcher, Kuhl 6.7:1 blower, KB alloy manifold, AJPE Stage III cylinder heads, BME rods and pistons, Velasco crank, P&P dry sump pump, Cirello points magnetos, Enderle 1270 cast fuel pump and Triple T headers.  A Camtech custom profile camshaft and Crane rollers manage the valve train.
The engine is a very basic combination, as the ANFA have very strict rules on fuel pumps, ignitions and tyre sizes, so no good being on over kill.
A 10 inch Crower glide resides in a Trick Ti clutch can with a Lenco Reverser bolted to the back.  A Summers alloy 9 inch housing holds the 3.89 rear gears, custom axles and carbon fibre brakes.
The class spec 1100 x 16 M&H tyres ride on 11 inch beadlock rims at the rear and Mickey Thompson 5 spoke are at the front with Hoosier 17 inch skinnies.
Our very own Buddy has his Racepak in the car and that is no end of supplied data on where and what the car performs at, and has been very beneficial in tracing many little niggling problems in the initial 'crawling'  stages that we have undertaken.
A couple of Simpson fuel style chutes pull the car up safely.
The cars engineering speaks volumes for Robert Stirling's prowess as a leader in manufacturing these cars as every new one pushed the engineering further. His skills are superb.
A lot of people made the roller into a reality, from Tommy's engineering/machining qualities, Joey's body fabrication techniques, Richards race car craftsmanship, Vince's set out of the engine and fuel system, Grants signs and detail all make the car possible to be pictured here.
It is a tribute to American and Australian drag racing ingenuity.